Over 6 000 voices will fill the air in Riga at the end of June when choirs from different countries come together at the Nordic-Baltic Choral Festival. This large-scale event will also conclude the Latvian Presidency cultural programme.
The long history of Latvian song
The tradition for Latvians to come together and sing has evolved over centuries, and Latvians can proudly state that they are a singing nation. The first Latvian folk song was published in the 16th century, and the first folk song collection was printed in the 18th century. Inspired by Western singing societies, the first choirs also started to form in Latvia around this time. The first Latvian Nationwide Song Celebration took place in 1873, and thus was born the song and dance celebration tradition as we know it today.
The Latvian Nationwide Song and Dance Celebration is organised once every five years, and is a true celebration of culture. It brings together choirs, dance groups, brass bands, kokle (a Latvian folk instrument) players, folklore groups, craftsmen and amateur theatre groups. Alongside concerts, open-air performances and an impressive parade of all those taking part, singing and dancing competitions also take place during this festival. It is a tradition that has seen its number of participants grow from 1 000 to 40 000 participants in just under 150 years. It presents Latvia to the world, while also proving that art and culture are a powerful source of hope, faith, solidarity and strength – a medium through which people can celebrate themselves, their loved ones, their nation and the whole world.
There are many families in Latvia whose members have sung in amateur choirs or danced in amateur folk dance groups for generations, thus keeping the song and dance celebration tradition alive in their everyday lives. The celebration itself is the culmination of constant practice throughout the five years.
"The song celebration plays an important role not only in boosting national self-confidence and strengthening the idea of the nation state. It also shows that we belong to European culture and it is a great source of inspiration and intercultural dialogue," emphasises Latvian Culture Minister Dace Melbārde.
The Latvian, Estonian and Lithuanian song celebration traditions have been included in UNESCO's Representative List of the Intangible Cultural Heritage of Humanity since 2008. These singing traditions used to exist throughout most of Europe, but over the course of time the custom has survived only in the Baltic States. Today the whole world has recognised this tradition as a masterpiece of cultural heritage that showcases cultural diversity and its vitality.
"There are not many masterpieces of this kind left in the world. If it were not for the enthusiasm of the Latvian, Lithuanian and Estonian people, the song and dance celebration tradition would no longer be alive. [This] is a story about the presence of song and dance in European culture. How much would we have lost if we could only see this story in photographs rather than in people's lives?" says UNESCO.
Nordic-Baltic Choral Festival celebrates 20 years
This year marks the 20th anniversary of the joint Nordic-Baltic Choral Festival initiated by the distinguished Latvian conductor Imants Kokars (1921-2011). The Nordic-Baltic Choral Festival established in 1995 aims to bring together amateur choirs from different countries to popularise the a capella singing that is especially characteristic of the Baltic States.
"After the three Baltic States regained their independence, and having kept their song celebration tradition alive throughout the years of occupation, they felt that it was important to identify themselves with European culture and to strengthen their sense of community with countries bordering the Baltic Sea. That is how the first Nordic-Baltic Choral Festival was born," explains Dace Melbārde.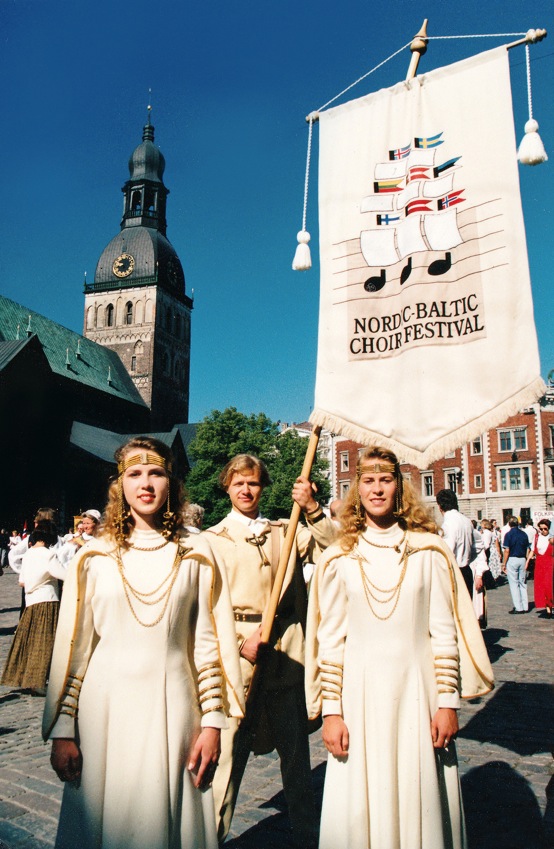 The First Nordic-Baltic Choral Festival in Riga. Photo: LNKC
The first festival took place in Riga and brought together almost 6 000 singers. In subsequent years, it was organised in other Northern European cities:
Visby, Sweden (1997)
Skien, Norway (2000)
Klaipėda, Lithuania (2002)
Tartu, Estonia (2008)
Reykjavík, Iceland (2010)
Helsinki, Finland (2012)
In its 20th anniversary year, the festival will return to Latvia where it all began. From 25 to 28 June, it will bring together around 8 000 participants in choirs, dance groups and brass bands from Denmark, Estonia, Finland, Iceland, Latvia, Lithuania, Norway, and Sweden, and choirs from Latvian diasporas in Austria, Russia, Switzerland and even Australia.
Festival programme
The festival programme will be dedicated to Imants Kokars who developed the choral music movement in Latvia. He came up with the idea of the Nordic-Baltic Choral Festival, founded the internationally recognised Ave Sol Riga Chamber Choir, promoted creative work by composers and compiled the Anthology of Latvian Choral Music. Two commemorative concerts dedicated to Imants Kokars have been organised: on 13 June at GORS, the Embassy of Latgale, and on 25 June in the Great Hall of the University of Latvia.
On 26 June, the Jāzeps Vītols Latvian Academy of Music will hold masterclasses on pop and jazz choral singing and will offer an insight into outstanding examples of choral music from countries participating in the festival. At 15:00 the participants will take part in a festive parade through the Old Town. 27 June has been designated Regional Day when the foreign guests will perform in Bauska, Cēsis, Jūrmala, Ogre, Sigulda and Tukums.
XXV Latvian Nationwide Song and XV Dance Celebration. Photo: Ilmārs Znotiņš
The festival will close on 28 June in Riga with a concert at the Mežaparks Open-Air Stage when over 6 000 singers will form one combined choir to perform songs from the previous Nordic-Baltic Choral Festivals and new pieces from each participating country. The concert will culminate in a performance of Carmina Burana, the scenic cantata by the German composer Carl Orff – the first time ever in the world that it will be performed by so many singers.
"That will be our tribute to the European Union and the Latvian Presidency – a responsibility of which I am very proud. Everyone in the world understands this composition. It comes from Europe and is very interesting when performed together, but not so easy to achieve individually," says the Artistic Director of the VIII Nordic-Baltic Choral Festival, Romāns Vanags.
The closing concert will mark the end of the Latvian Presidency cultural programme in Latvia, thus drawing attention throughout Europe to the song celebration tradition.
The VIII Nordic-Baltic Choral Festival is organised by the Latvian Ministry of Culture and the Latvian National Centre for Culture in cooperation with the Latvian Ministry of Foreign Affairs and the Secretariat of the Latvian Presidency, Latvian local governments, Latvijas Televīzija, Latvijas Radio, NGOs and organisations from the Baltic States and Nordic countries.
The festival programme is available on the festival's official website:
www.nordicbalticchoir.lv.
Tickets for Nordic-Baltic Choral Festival events can be purchased at Biļešu Paradīze booking offices and on www.bilesuparadize.lv.